Resurrection Parish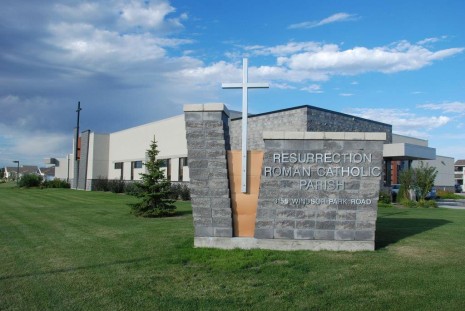 Welcome To Resurrection Roman Catholic Parish
We are a large Roman Catholic parish in the southeast corner of Regina (Windsor Park), the newest parish in the city.

We exist to fulfill the Great Commission of Christ - to go forth and make disciples by loving God and loving others.
Resurrection Parish celebrates Sunday and weekday Masses and other liturgies, provides faith formation and Sacrament preparation and offers fellowship, outreach and evangelization opportunities.
Our parishioners and staff embrace our core values:
WELCOMING, INVITING, CLEAR and COMMITTED
As a parish, there are four habits we want to instill in our members:
PRAY always;
SERVE in a parish ministry or missionary outreach;
GIVE generously, and
INVITE friends and family to join your journey
INVEST in the relationships you have with family and friends and INVITE them to encounter Christ and His Mission by joining you at a faith study, liturgy or Mass.
Appointment of
Archbishop of Regina
Click to read the Letter from Bishop Don Bolen.
Read the news bulletin from the Diocese of Saskatoon here.
The Installation of Archbishop Bolen was on Friday, October 14th. You can still view the Livestream recording from the Archdiocese website archregina.sk.ca.
WEEKEND MINISTRY SIGN UP
Sign up for the weekend Mass Ministries is taking place from October 1st until October 24th. (For the schedule that will run from December to May). Please visit the Liturgy and Worship section of the website found under the Ministries and Groups tab above to find out more information about each ministry.
Our online Ministry Scheduler can be found here. Existing volunteers can sign in and new volunteers can sign up online. You can use the online program to input or update your profile, select ministries, view your schedule and request substitutes.