Resurrection Parish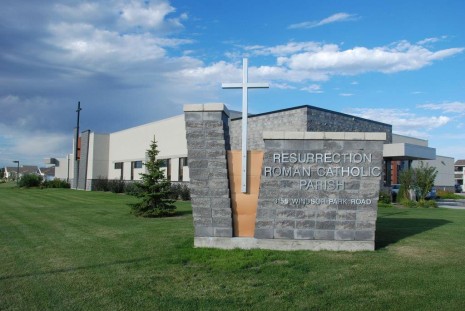 Welcome To Resurrection Roman Catholic Parish
We are a large Roman Catholic parish in the southeast corner of Regina (Windsor Park), the newest parish in the city. Located at:
3155 Windsor Park Road, Regina, SK S4V 3B1

We exist to fulfill the Great Commission of Christ - to go forth and make disciples, love God and love others.
Resurrection Parish celebrates Sunday and weekday Masses and other liturgies, provides faith formation and Sacrament preparation and offers fellowship, outreach and evangelization opportunities.
Our parishioners and staff embrace our core values:
WELCOMING, INVITING, CLEAR and COMMITTED
As a parish, there are four habits we want to instill in our members:
PRAY always,
SERVE in a parish ministry or missionary outreach,
GIVE generously, and
INVITE friends and family to join your journey
Weekend Mass Ministry
A copy of the schedule can be found here as well as on the Liturgy & Worship page.
The current schedule will run until the end of May. The schedule from June through November will be published in two - three month portions (June-Aug and Sept-Nov).
Thank you to all who continue to serve in a ministry at our weekend Masses!! We have an ongoing need of people to serve at Mass, especially in the areas of Mass coordinating, greeting, ushering and AV support. Although our focused sign-up and re-commitment is now closed, if you are interested in joining or finding out more about any of the ministries at Mass, please contact the parish office.
Group training is being offered as noted below. Anyone is welcome to attend a training session:
Altar Server Training for NEW servers (grade 4 and up) - Saturday, May 6th at noon
Altar Server Training for those wanting review - Sunday, May 7th at 1:30 p.m.
Greeter and Usher Training - Sunday, May 7th at 2:30 p.m.
Proclaimer Training - Sunday, May 7th at 3:30 p.m.
If you would like to receive training and are not able to make these group sessions, please contact the office.
National Week for Life and the Family
You can find some suggested activities from the Canadian Conference of Catholic Bishops for your family to do together here and also at www.cccb.ca.
Other suggestions include:
Talking about your day at the dinner table.
Saying "hi" to your neighbours.
Having a family game night.
Go for a walk or to the playground.
Go out for a family treat.
Call your Godparents.