MASS REGISTRATION
Effective May 30 we are able to increase capacity to allow 150 people at each Mass. With the increase in numbers of people able to attend Mass, weekday Mass registration is no longer required.
Please note that the process for weekend Masses remains the same, you will need to re-register EVERY WEEK that you would like to submit your name for selection. Click on the button below to pre-register for weekend Masses.

Those selected will be contacted via email.
NOTES:
The cut-off time to pre-register for a weekend Mass is Thursday at noon of that week.

Please be sure to also check your email spam folder and/or be sure that your email security settings will allow our email messages.



CLICK HERE to read the statement from the Archdiocese of Regina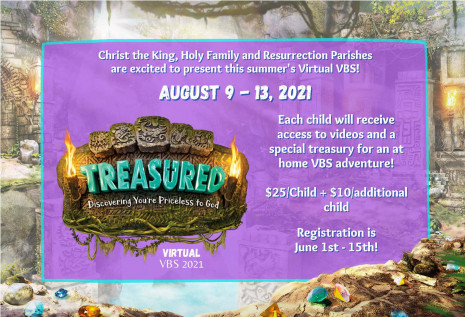 Registration is now open!

Praise and Worship with Adoration at Resurrection Parish on Thursday, June 17 has been cancelled.
Please watch our bulletin for rescheduling.

If you would like to come to the church for some private prayer, our church is now available to you from:
10:30 am to 1:00 pm - Monday to Friday *
Please come to the office doors on the south side of the building and ring the bell for access. You will be asked to sign in and will be required to follow all social distancing guidelines as per the current Government regulations. When you leave, please leave by the south office door.
* Availability may be limited some days due to funerals, etc. If you wish to confirm availability, please call the office in advance at 306-352-0800

Sacrament Preparation
Baptism: infant baptism registration ongoing
Baptism: children age 6 or older – preparation begins in October
Confirmation & First Eucharist: children entering grade 2 or higher in September 2021 school year
First Reconciliation: children entering grade 4 or higher in September 2021 school year
Young adults or adults: interested in learning more about the Catholic faith.
For more information, or to register contact Barb at: 306-352-8044 or
sacraments@resurrectionparish.ca



Sign up with our Flock Note service to receive our weekly electronic bulletin and/or updates from Resurrection Parish that are relevant to you.
Pick and choose the information that you'd like to receive and modify your choices at any time.
Click on the banner above, fill in the form below
or text ourparishonline to 514-900-0130