October 24th from 4:00 pm to 6:00 pm
3155 Windsor Park Road, Regina - Pick-up at the east Hall Doors
$20 per plate
Call the Parish Office at 306-352-0800 to order.
Order Deadline is October 17th.
All dinners must be pre-paid – Cash, Cheque, Credit Card, or E-transfer to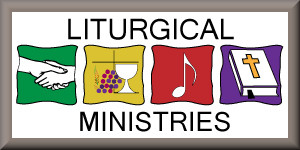 As each one has received a gift, use it to serve one another as good stewards of God's varied grace.
(1 Peter 4:10)
We're looking for people to sign up to help out with all liturgical ministries. Even if you had helped in the past; please take this opportunity to sign up again as we slowly get our Masses back to normal. CLICK HERE to sign up.
Thank You!

Due to the relaxing of Saskatchewan health regulations, there will be some changes to our Masses.
· You will no longer need to pre-register for ANY of our Masses.
· You will no longer be required to check in before Mass (or when visiting the office) for contact-tracing purposes.
· Hand sanitizing will continue.
· For the next few months, we will still be maintaining some social distancing at the Masses.
· Masks are required when attending Mass
· A Cry Room will be available in meeting room #1 if required, however there will be no shared toys available in the room.
As we slowly move back to the way of doing things the way we did prior to the COVID-19 virus, please understand and respect that everyone has their own individual comfort level .
Also, please consider volunteering to help out during Mass. Please watch our bulletin and your email account for information on how you can participate.


Reconciliation and healing for residential school survivors and their communities – financial appeal announced by Saskatchewan bishops:
The five Catholic bishops of Saskatchewan on July 13 released more details about a planned fund-raising appeal entitled "Catholic TRC healing response." The Saskatchewan bishops said that the appeal's goal is "to support Residential School survivors and their communities and to engage more deeply in our own ongoing commitment and response to the Truth and Reconciliation process" with funds going to the priorities of healing and reconciliation; cemeteries on the sites of former residential schools; and education and cultural support. "We are collaborating with potential participants, and consulting with Indigenous dialogue partners, including Survivors, Elders, Knowledge Keepers, Chiefs, and other community members. Out of these conversations, each diocese and eparchy will discern and communicate separately how they will proceed with the Appeal in their respective dioceses and communities," said the bishops. For those who wish to donate immediately or make a long-term pledge, see the online giving options at: https://dscf.ca/catholic-trc-healing-response/

Bible Study Christlife
'Discovering Christ' is a seven week program where we invite anyone and everyone, baptized and unbaptized, non-practicing and practicing Christians to hear the Good News and personally encounter Jesus Christ.
'Discovering Christ' will be held at Resurrection Parish on Thursday evenings from 6:30-9:00 PM and will run from September 30 to November 4. We will begin each evening with a meal followed by prayer time, a video and small group discussion.
Please email pastoralassistant@resurrectionparish.ca to register.