MASS REGISTRATION
We now have Masses at 5:00 pm and 7:00 pm on Saturdays, and 7:30 am, 9:00 am and 11:00 am on Sundays
Due to the COVID-19 restrictions all Masses are now limited to 30 persons.
Select the appropriate link below to sign up for weekday or weekend Masses.
PLEASE NOTE: For WEEKEND Masses, you will need to re-register EVERY WEEK that you would like to submit your name for selection.
Those selected will be contacted via email.
NOTES:
The cut-off time to pre-register for a weekend Mass is Thursday at noon of that week.

Please be sure to also check your email spam folder and/or be sure that your email security settings will allow our email messages.
Please see the video below to see the updated Mass protocol.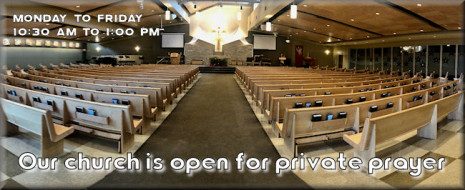 If you would like to come to the church for some private prayer, our church is now available to you from:
10:30 am to 1:00 pm
Monday to Friday *
Please come to the office doors on the south side of the building and ring the bell for access. You will be asked to sign in and will be required to follow all social distancing guidelines as per the current Government regulations. When you leave, please leave by the south office door.
* Availability may be limited some days due to funerals, etc. If you wish to confirm availability, please call the office in advance at 306-352-0800


Sacrament Preparation
Sacrament preparation for the upcoming year will begin shortly. There is still time to register.
Confirmation with First Eucharist – children in grade 2 or higher
Reconciliation – children in grade 4 or higher
Due to the Saskatchewan Health Authorities ongoing changes to the size of gatherings we will not have face to face classes. We have decided to deliver the program using virtual presentations instead.
If you would like to register your child,
please contact the parish office as soon as possible at… sacraments@resurrectionparish.ca



Sign up with our Flock Note service to receive our weekly electronic bulletin and/or updates from Resurrection Parish that are relevant to you.
Pick and choose the information that you'd like to receive and modify your choices at any time.
Click on the banner above, fill in the form below
or text ourparishonline to 514-900-0130