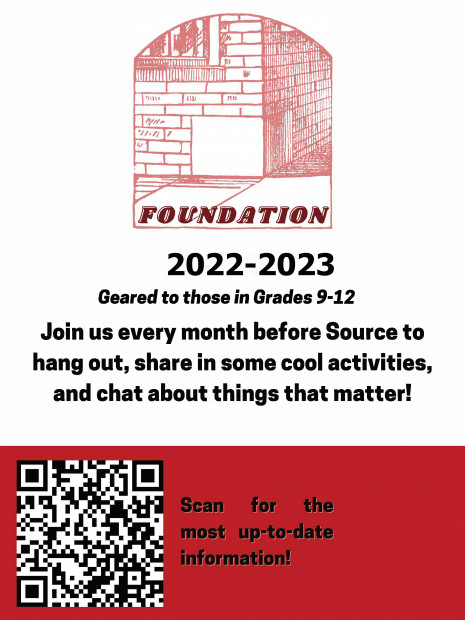 What is Source?
Source is an event that happens from 7:00-8:30 where we have a guest speaker, and then we have adoration, a live praise and worship band, as well as the opportunity to attend confession and prayer ministry.
Source is open to ALL youth and young adults in Regina and surrounding areas. You don't have to attend one of the host parishes!
This is a free event, and registration is required due to restrictions! Stay up to date by following Source - Regina on Facebook or sourceregina on Instagram!
For more information please Click Here to contact the Youth Ministry Coordinator.
What is Foundation?
I N T R O D U C I N G Foundation!
Formerly known as "Pre-Source", Foundation is an opportunity for high school students to grow in community and friendship, dive deeper into that month's theme, and chat about things that matter.
More information is coming soon:)
Don't know what Eucharistic Adoration is?
That's okay! Eucharist Adoration is a time of prayer and worship in front of the Blessed Sacrament.
There are lots of different ways that Eucharistic Adoration is done. At Source, we take about an hour. During this time we have praise and worship music and silence. We also have priests available for the Sacrament of Reconciliation and a prayer team for prayer ministry.